World
Coronavirus in Senegal: keeping Covid-19 at bay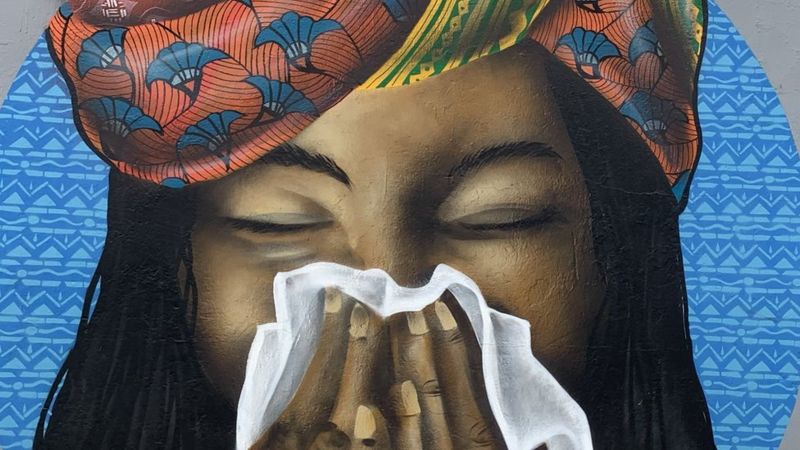 Despite having only seven doctors per 100,000 inhabitants, Senegal has been widely praised for its handling of the coronavirus pandemic. The BBC's Mayeni Jones and Naomi Scherbel-Ball examine how the country has managed to control Covid-19.
"When the first case arrived, we were very anxious and I was angry because it was an imported case," says Dr Khardiata Diallo, who coordinates the epidemic treatment center at Fann hospital in the capital. , Dakar.
"We were concerned about running out of equipment, for the treatment of the coronavirus there were only 12 beds with a limited supply of oxygen for the whole country."
It was at the end of February when a Frenchman had returned to Dakar from a ski trip with fever, sore throat and headache.
It was the first case of Covid-19 in Senegal, the second case reported in sub-Saharan Africa.
Dr Diallo, who was part of the team that treated the country's only Ebola case during the 2014 West African epidemic as well as other cholera outbreaks over the past 15 years, knew that they had to act quickly to contain the pandemic.
24 hour free test
His colleagues at the prestigious Institut Pasteur in Dakar, which in February was one of only two laboratories in Africa capable of testing for the coronavirus, have trained staff in dozens of other countries on how to test.
As of April, 43 countries on the African continent were able to effectively diagnose Covid-19.
Today, the Dakar Plateau central district laboratory operates 24 hours a day and testing has been extended across the country.
Testing for people with symptoms is free and results are published within eight hours.
While there have been concerns about low testing rates across the continent, the African Center for Disease Control is helping countries increase testing levels and there are hopes that diagnostic kits will Inexpensive self-test could help with this effort.
The Institut Pasteur has played a crucial role in this effort, with its chief virologist Amadou Sall in partnership with the British company Mologic to develop two home test kits:
One to test if someone currently has the virus, similar to swab PCR tests currently used in the lab
The other to check if someone has developed antibodies to the coronavirus from a previous infection
Dr Sall says manufacture of the antibody test has already started and they should be released in the coming weeks.
It will work like a pregnancy test, costing almost $ 1 (£ 0.80) with results in just 10 minutes.
The home test that will show if anyone currently has coronavirus has been delayed and is now being validated by the Liverpool School of Tropical Medicine, but there are hopes it will still be available before the end of the year.
Higher test levels should also help with early diagnosis.
You might also be interested in:
Ibrahima Diop, a 29-year-old telemarketer in Dakar, fell ill in April and was first treated for malaria.
It was only at the insistence of his mother, who worked at a hospital, that he was tested and diagnosed with coronavirus – along with 60 of his call center colleagues.
He was quickly treated and released from hospital within a week – his case showed the need for people to get tested in a country where symptoms can easily be mistaken for malaria, which authorities stressed during their daily televised coronavirus briefings.
Sing to beat the virus
In April, they banded together to free Daan Corona, which means 'Defeat the Coronavirus' in the local Wolof language.
The song features famous Senegalese musician Youssou Ndour calling on people to stay home and wash their hands.
There are also colorful murals on the walls of Senegal's oldest university calling on students to share good coronavirus prevention techniques with their classmates, rather than sharing the coronavirus.
Across the road you can see the blue basins that have been set up for hand washing in some public areas.
At the very start of the pandemic, preventive measures were put in place, including a state of emergency, the complete closure of schools and a nighttime curfew.
Restaurants, supermarkets and banks were quick to introduce temperature controls at their entrances.
Although this is now largely relaxed, on the streets of Dakar, face masks are still mandatory, a rule that was introduced as early as April.
Today, the 14 regions of Senegal are equipped to treat patients with coronavirus and there are only 26 patients left on ventilators across Senegal.
In the acute coronavirus department at Fann Hospital in Dakar, Dr Oumar Kane is monitoring his latest ventilator-dependent coronavirus patient.
The 58-year-old has been treated there for just over a week – he has diabetes.
To minimize contact, cameras in the room connect to an outside television screen.
But in March, when cases in Senegal started to increase, Dr Kane recalls a very different situation.
"The problem was that we only had 10 beds with fans and there were times when there was pressure on the list which meant we got calls requesting a bed and couldn't receive the patient.
"This demand continued for about three weeks, until other hospitals were equipped."
The number of recorded daily cases has fallen sharply since mid-August. checked in
Senegal, which has 16 million inhabitants, has recorded only 15,000 positive cases and just over 300 deaths.
Its virus containment strategy has adapted and many patients with mild symptoms are now being treated at home, with hospital staff monitoring their condition remotely and delivering medication.
Muslim pilgrimage challenge
When international flights reopened in July, there were fears of an increase in cases.
Senegal, like many other African countries, has asked visitors to produce a negative Covid-19 certificate, dated no more than a week before travel.
On arrival, passengers have their temperature taken. So far, these measures seem to have worked, with low levels of imported cases.
It is a historic pilgrimage to Touba, which is 190 km (120 miles) east of Dakar and is the spiritual home of the Murid Muslim Brotherhood.
Pilgrims queue for hours in the streets of the city to get to the Grand Mosque and the mausoleum of the founder of the brotherhood.
As posters in the capital show the community leader calling on his followers to wear face masks, bringing together such a large number of worshipers in one location will be a crucial test as the country seeks to maintain the progress made until present.